Due to the COVID-19 crisis, we will give the iSport360 app away FOR FREE to every team that needs to stay connected this season. Coaches and clubs, register your teams here.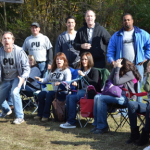 Written by Dr. Marianne Engle This is a strange and unexpected time for child and adolescent athletes, parents, and families. Connections with teammates, coaches, and opponents have been curtailed, but we have an opportunity to make this a time for growth, developing strength, and teamwork. Coaches can continue to lead and train players by staying … Read more
Subscribe To Our Newsletter For Sports Parents And Coaches
An informative and frequently funny look at the Chaotic World of Youth Sports where your views are welcome.